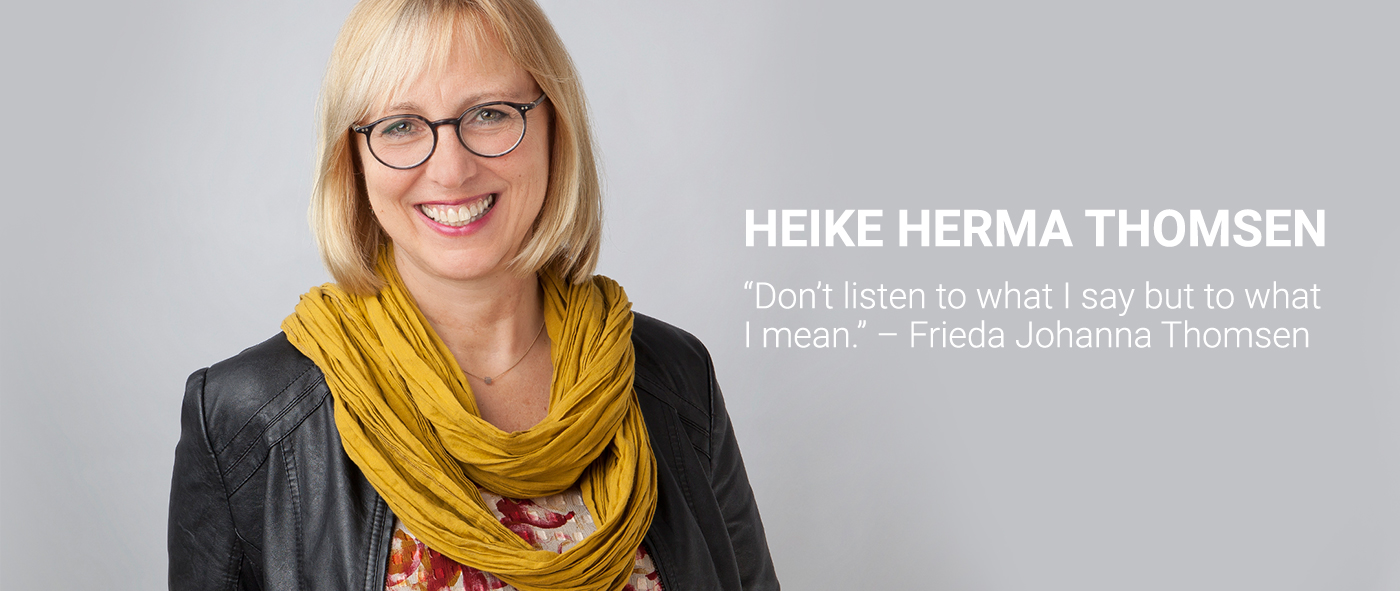 This principle – at times mentioned daily by my mother - permeates every aspect of my life and work. The practice of communicating clearly and understanding quickly makes perfect at an early stage, when you grow up in a country inn meeting the most diverse people.  Since then this insight has accompanied me in my creative work in understanding needs and developing suitable communication solutions. In addition, it is reflected in my collaboration with clients and participants. Always trusting and solution-oriented.
Our language determines how we think and act. As a Master of English philology, writer  and translator I am convinced of that. Through my formal training as business coach and NLP master practitioner this approach has become an essential aspect. 10 years in Brussels have sharpened my communication skills in five languages as well as my intercultural understanding which I complemented with a training as certified coach for creative writing and poetry therapy. Today, I support people in a mindful communication process to sort their thoughts and develop new insights in order to define their goals and find the balance between success and well-being.
My professional background is solidly based upon 25 years of international experience in the field of learning&development, capacity building, EU project management, PR&event management, and strategic association work ranging from shipbuilding to consumer law. Communicating well and writing clearly both internally and externally, has always been a crucial part of my work whether it was in executive management or other challenging positions in international public and private organisations, the non-profit sector and in EU-projects.
I offer my creative coaching and workshops on various communication and change topics in Germany and abroad. I use creative methods and proven methodology as ProfilPASS and NLP, with a focus on "Creative Writing and Poetry Therapy".
I provide my combined expertise primarily in English and German, however, I can revert to Spanish, Dutch and French at any time.
As a person and in my work I follow ethical values and ensure the quality of my work by on-going education and specialist exchange.  
---
Education and Training:
Master of Arts, M.A., English, Hispanic and Dutch philology incl. studies abroad in USA/UK
Authorised Translator for German, English, Spanish, Dutch at the Higher Regional Court (OLG) Schleswig
Certified Trainer for Creative Writing and Poetry Therapy
Certified Business and Writing Coach
Train-the-Trainer Germany and UK
NLP Master Practitioner
Business Administration with focus on Personnel Development and Communication
Online-Trainer
ProfilPASS Advisor
Personnel development, project management, non-violent communication, change management, consultancy for women, webinar trainer
---
Memberships:
Federal Association of Interpreters and Translators (BDÜ), Berlin (GE)
National Association of Writers in Education, UK
Nordbuch e.V,, Kiel (GE)
German Association for Neuro-Linguistic Programming, Berlin (GE)
Business Professional Women Germany – Club Kiel e.V.
---
Professional Background:
Since 2017 free-lance trainer with Seminarzentrum Tannenfelde, Aukrug and Haufe Akademie
Since 2015 Project management at Life Science Nord Management GmbH, Kiel, Deutschland
Since 2013 hhthomsen communicative solutions, translations, coaching for communication and writing
Since 1994 Freelance Authorised Translator for EN, SP, NL, Kiel
2008-2014 Head of Capacity Building & Training, EU Project Manager, BEUC, Brussels (BE)
2005-2008 Policy Advisor, HR Consultant and EU Project Manager, CESA, Brussels (BE)
2000-2005 HR Manager, Thyssen-Krupp Marine Systems (HDW), Kiel (GE)
1995-2000 PR&Communication Manager, Howaldtswerke-Deutsche Werft AG, Kiel (GE)
1992-1995 Translator and Text Editor, Schönau & Danielsen, Rendsburg (GE)
1990-1992 Freelance Translator and Language Coach