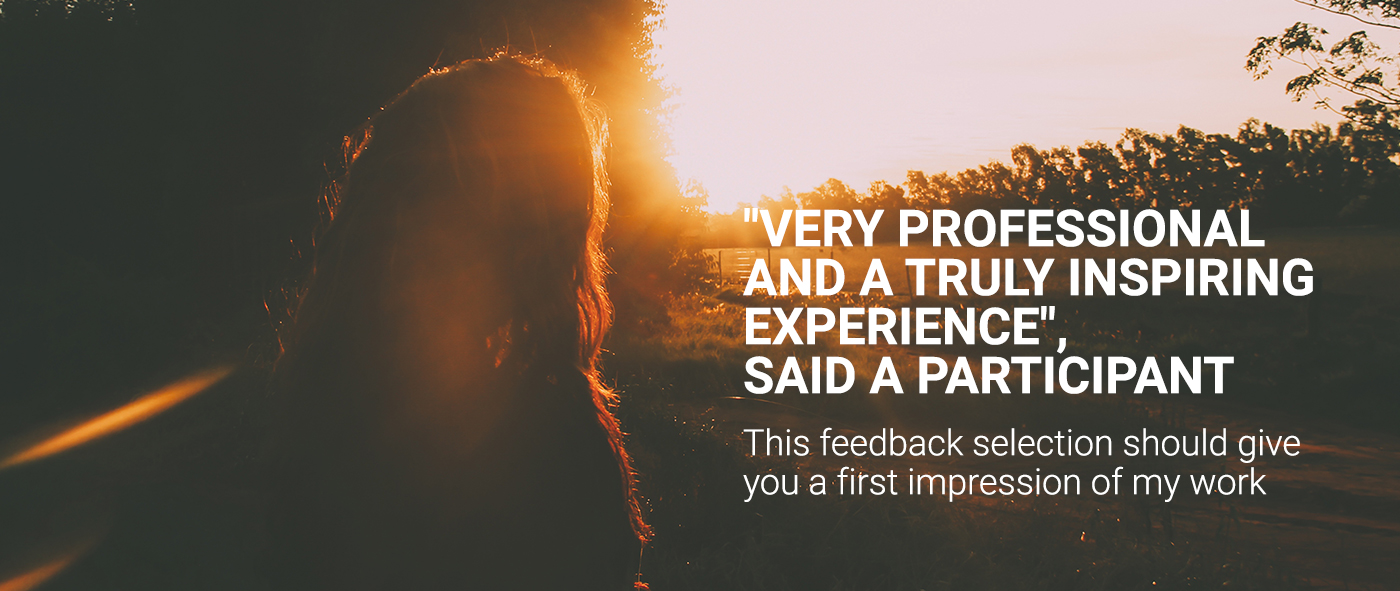 ---
Der 4-tägige Bildungsurlaub "Der rote Faden meines Lebens" bei Heike Herma Thomsen war eine ganz besondere Erfahrung, für die ich sehr dankbar bin. Er hat mich mit Hilfe unterschiedlichster Methoden und Übungen meine Themen aus einem ganz anderen Blickwinkel betrachten lassen, als ich das bisher konnte. Das kreative Schreiben war dabei ein für mich gänzlich neuer Ansatz, den ich als außergewöhnlich hilfreich erlebt habe und seitdem weiter für mich nutze. Die Dozentin habe ich als sehr authentisch, wertschätzend und inspirierend wahrgenommen."
Janine, 33 J., Öffentlicher Dienst in Kiel
---
Professional coach and trainer, innovative, flexible and friendly; consumer friendly, too."
Grazyna Rokicka, president at Association of Polish Consumers
---
"It was great to have a facilitator who was so enthusiastic and understanding of our needs. The rigorous attention to detail and planning resulted in a clear understanding how to achieve the meeting's objectives. During the meeting you were easy to work with and flexible, responding to the needs of the participants while pushing us towards the objectives. The results were clear. We left the meeting having achieved our objectives, with great enthusiasm and motivation. It was such a positive experience for us your card is on record for the future!"
Anthony Field, WWF-Europe Advocacy Campaign Manager, London
---
"Warmherzig, strukturiert, effizient und weitsichtig wären die Adjektive, um eine Coaching-Sitzung mit Heike Thomsen zu beschreiben. Professionell mit einer menschlichen Note hat sie mir geholfen, mein berufliches Ziel zu finden, als ich den Wald nicht vor Bäumen sah. Sie führte mich auf meinem Weg zu einer Entscheidung  und half mir eine Strategie für die Zukunft zu entwickeln."
Saida S., Projektmanagerin, Belgien
---
"I know Heike Thomsen through my position as Trainer/Lecturer on the European Commission funded courses facilitated by and managed in Brussels by BEUC - The European Consumer Organisation under the TRACE project budget. Heike Thomsen was Head of Training of TRACE team. It is my opinion that her contribution to the success of the courses was significant and impressive. Her professionalism and her spirit of cooperation and collaboration is unique and guarantees the success of her work."
Konstantinos Dagkos, Legal Advisor and Consumer Law Specialist
---
"I spent one month of secondment under Heike's direction. She taught me a lot about the organization of the professional workshops from the inside, and also how to be a good trainer, not only the lecturer. Her professionalism and vast knowledge is really impressive, which makes working with her a real pleasure."
Andrzej Bucko, Lawyer at Polish Consumer Federation
---
"As a Trainer, CEO of the Consumers' Association of Ireland and a member of BEUC, I had the great fortune to work with and collaborate with Heike on a number of courses including, Project, Financial and Resource Management as well as Leadership and Business Planning. Her professionalism, enthusiasm, energy and attention to detail made for a very positive and powerful delivery of high calibre, quality courses that have brought significant and lasting benefits across the European consumer movement."
Dermott M Jewell, Banking Stakeholder Group at European Banking Authority
---
"As Head of the Training Department at BEUC Heike was of invaluable help to all member organisations such as my own (the Federation of German Consumer Organisations). Her long-standing experience in coaching and training as well as in the EU policy environment provided all participants of workshops with the necessary background and tools to successfully use the newly acquired knowledge in their day-today work."
Isabelle Buscke, Head of Brussels Office (Leitung), Verbraucherzentrale Bundesverband e.V.
---
"Du hast mir seinerzeit sehr geholfen. Meiner langen Erfahrung nach ist es auffallend, dass Du die Fähigkeit besitzt, etwas einfach und gut zu erklären. Das kann nicht jeder. Sehr gut. Das möchte ich Dir doch noch sagen."
Lucienne M., NL
---
"Im Mai 2017 besuchte ich den Kurs "Der rote Faden meines Lebens" bei Heike Herma Thomsen an der VHS Kiel. Meine Erwartung war klar: neue Anreize/ Motivation/ Ziele für die weitere Ausübung meiner beruflichen Tätigkeit zu bekommen. Bald war klar: das Seminar bringt mich viel weiter in meiner gesamten Persönlichkeitsentwicklung. Auf keinen Fall hatte ich Lust auf eine depressive Psychowoche. Und das wurde es auch keineswegs! Heike Herma Thomsen ist gelernte Literaturwissenschaftlerin und hat uns durch das Instrument des kreativen Schreibens eine ganz neue Sichtweise zur Beurteilung unserer Situation gegeben. Wir machten uns unsere Stärken bewusst, lernten neue Kraftquellen kennen und in der ganzen Gruppe entwickelte sich eine sehr positive Energie. Heike Herma Thomsen hat es geschafft, durch Ihre angenehme und professionelle Leitung, Ihre Erfahrung und mit Ihren vielen Angeboten, dass sich alle Teilnehmer wohl fühlten und alle die Woche als vollen Erfolg verbucht haben. Vielen Dank Heike für deine Unterstützung! Ich komme bestimmt wieder zu einem Seminar zu Dir. Meiner besten Freundin habe ich schon empfohlen zu dir zu gehen."
Nina W., 48 Jahre, Öffentlicher Dienst in Kiel
---
"Durch ihre professionelle Analyse und ihre Empathie hat mir Heike Probleme in der Kommunikation und speziell im Bereich Feedback sehr anschaulich und verständlich aufgezeigt und mir damit geholfen, die Kommunikation mit Kollegen und Vorgesetzten deutlich zu verbessern."
Catrin S., Projektmanagerin Marktforschung
---
"Heike gave several facilitation trainings and actually facilitated various meetings for WWF European Policy Office in Brussels. She is a very motivating and engaged trainer who can apply a suite of tools and strategies according to the individual circumstances. Due to her experience with NGOs as well as the business world she has a good understanding of our needs and particular ways of working. Her style is clear and straight forward, based on good and detailed planning she is able to lead to clear results and outcomes."
Dr. Andrea Kohl, Deputy Director at WWF European Policy Office
---
"Concentration, efficacité et une grande notion de management. Heike a géré plusieurs années des groupes venant de l'Europe entière et les résultats ont toujours été positifs. Grande professionnelle."
Joao Leite, Director, D.O.P. Production
---
"Heike helped me in our coaching to recognise my Unique Selling Point (USP) and thus increase my self-confidence. Her empathy, her extensive professional experience and creative approach make her an outstanding coach at a high level. She exudes positive energy and provides meaningful advice at the right time! She was the best coach for me at the time."
Jonathan La Morte, Sales Associate - Fashion expert chez CHANEL
---
"Curious and a little nervous I attended the first day of my booked educational leave course "Fil Rouge of my Life" with Heike Herma Thomsen.
My curiosity was satisfied and also time and again newly aroused by creative exercises and writing ideas. My nervousness disappeared and gave way to a pleasant and warm feeling of   "I am at the right place,  here I will stay for a little while longer". Usually, I am not a friend of such flowers of speech, however,  it describes exactly how I felt. Heike's authentic and unobtrusive yet highly professional guidance through the entire course has triggered this experience for me, just as the variety of methods and exercises, inviting me carefully and respectfully on a journey to myself. I never felt discomfort or pressure at any point. Following the principle: "All things optional, nothing is a must", Heike set the right tone of the course for me.  Thank you very much, Heike,  for one of the most enjoyable, if not the most enjoyable, journey to myself !"
Dr. Yvonne R., Public Service
---
"I have always appreciated very much the BEUC courses that Heike organized while she was in charge of the training activities of this organization.
I think she is strongly oriented towards her goals, which she can achieve with a high professionalism and a considerable open mindness towards all the people she gets in touch with. I have always appreciated her willingness to help anyone anytime she could in order to have every trainee feel at ease while attending the courses. I think Heike is a genuine leader."
Fabiana Fucci, Legal Counsel & Compliance Officer presso Nidec ASI S.p.A. (formerly Ansaldo Sistemi Industriali)